Our bike in detail
By Kaspar
Building a solarbike that is able to get us trough all kinds of terrain and weather on a more than 20'000 km journey must be planed accurately. In the following sections I will guide you through our decision process regarding the components.
Caution: It is detailed and nerdy so if you don't care too much about the reasons why we use these parts and just want to know the stats the table below shows the most important informations.
| Component | Supplier | Specs |
| --- | --- | --- |
| Bikeframe | Velotraum | VT 1300 Pinion |
| Backbrake | Magura | MT4e |
| Frontbrake | Magura | MT5e |
| Gearbox | Pinion | C12 |
| Hubmotor | 9th Continent | RH212 Fast Wind |
| Seatpost | byschulz | LT |
| Trailer | aevon | STD 100 |
| Solarpanels | sunbeam system | Tough Series 111 W |
| MPPT Charger | elojoy | 400 W Step-up |
| Motor Controller | Grin Technologies | Baserunner |
| Control Unit | Grin Technologies | Cycle Analyst |
Drivetrain
The first decision we made was to use an electric direct drive hubmotor. We use a 9th Continent RH212 fast wind with around 1200 W of power paired with a Baserunner motor controller both from Grin Technologies.
Why not a middrive motor like the ones every modern e-bike uses? Because we want to decrease the stress on the drivetrain and try to minimize the parts that can potentially fail or have to be maintained often, that is also one of the reasons why we chose a heavy direct drive motor and not a geared one. The other one is that a direct drive motor allows regenerative braking which can increase the range up to 10% depending on the terrain. The available torque of a reasonably sized hubmotor is more than enough and the bikes are going to be heavy anyway so we don't bother saving one or two kilograms.
The second decision was to use a belt drive in order to decrease maintenance, even if it limits the options for transmission systems drastically.
The combination of belt drive and hubmotor eliminates the possibility to use a hub transmission or a cassette - but there is a solution: a completely sealed and almost maintenance free pinion gearbox. We chose the version with 12 gears, C12.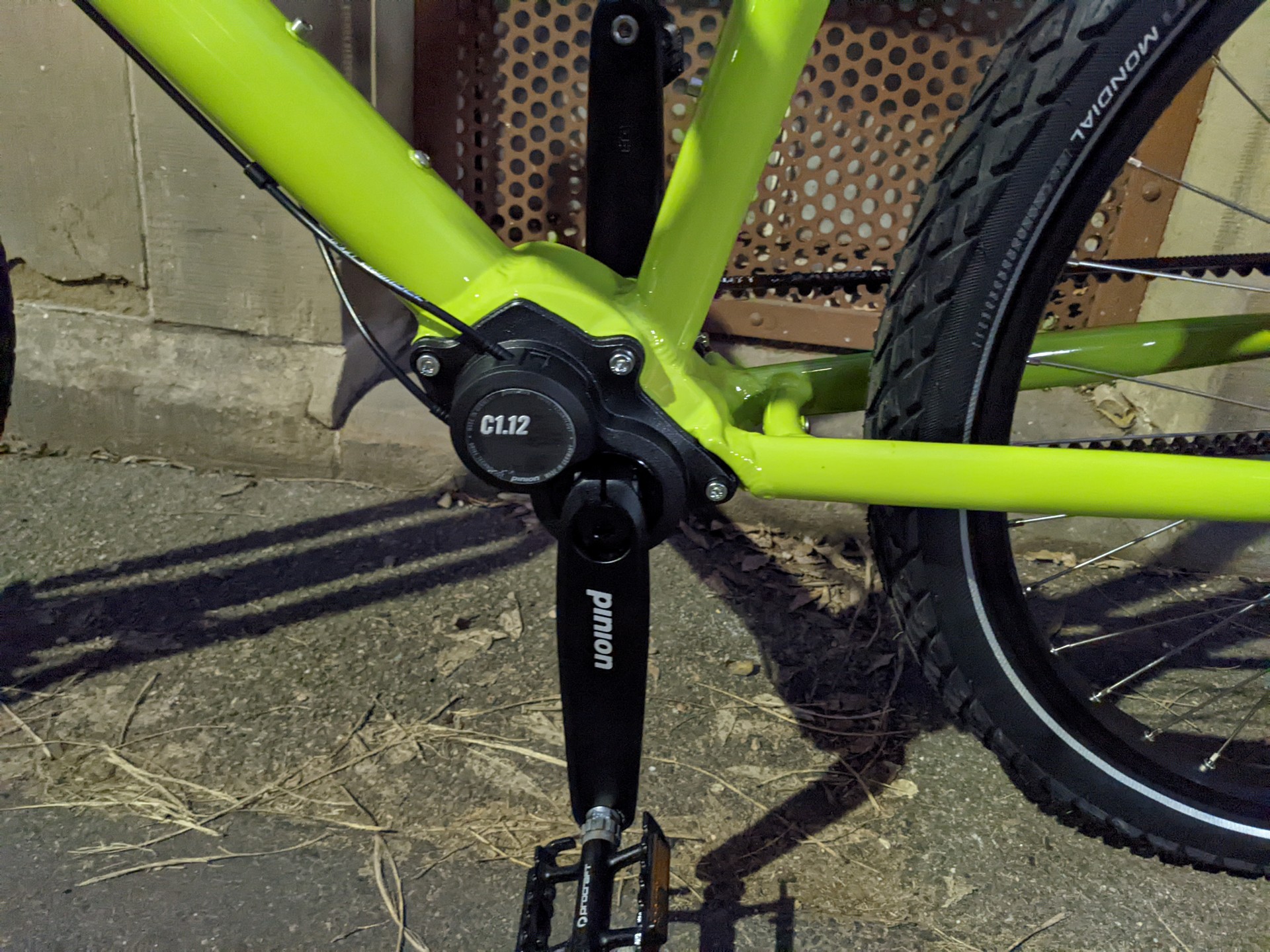 Bike
A pinion can only be mounted on a frame specifically made to fit it. So we searched for a reliable and customizeable touring bike frame that can fit a pinion and found the Velotraum VT1300 Pinion that perfectely fits the decription above. The hydraulic discbrakes fitted are a Magura MT4e in the back and a Magura MT5e in the front, both with 180 mm discs. The e-bike version of the Magura brakes have a switch included that close an electrical loop when pulled, this signal can then be used to disable the motor and enable regenerative braking.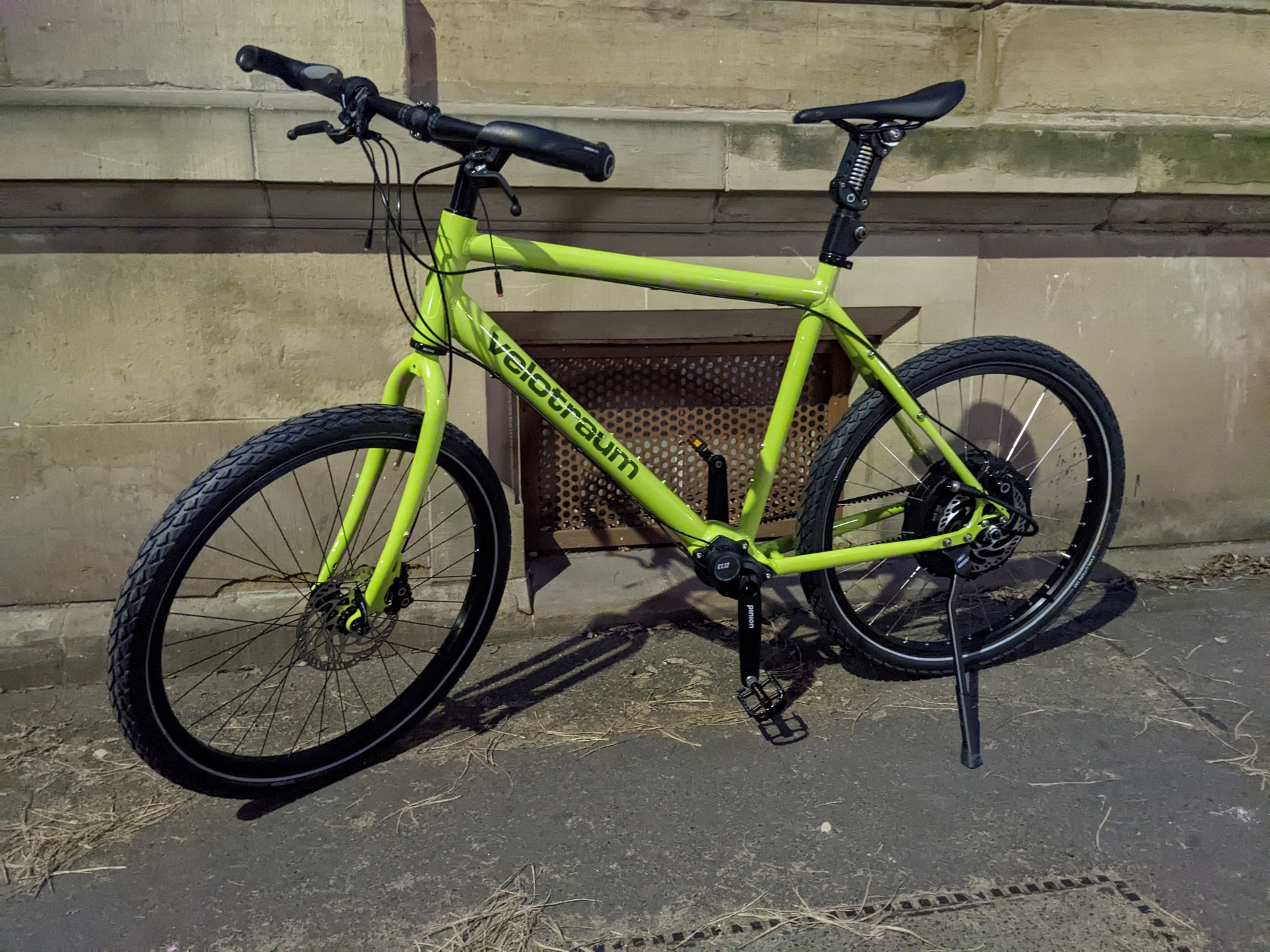 We expect many long days in the saddle and to increase comfort we attached byschulz G.2 LT seat posts that improve the sitting comfort significantly, especially on bad roads.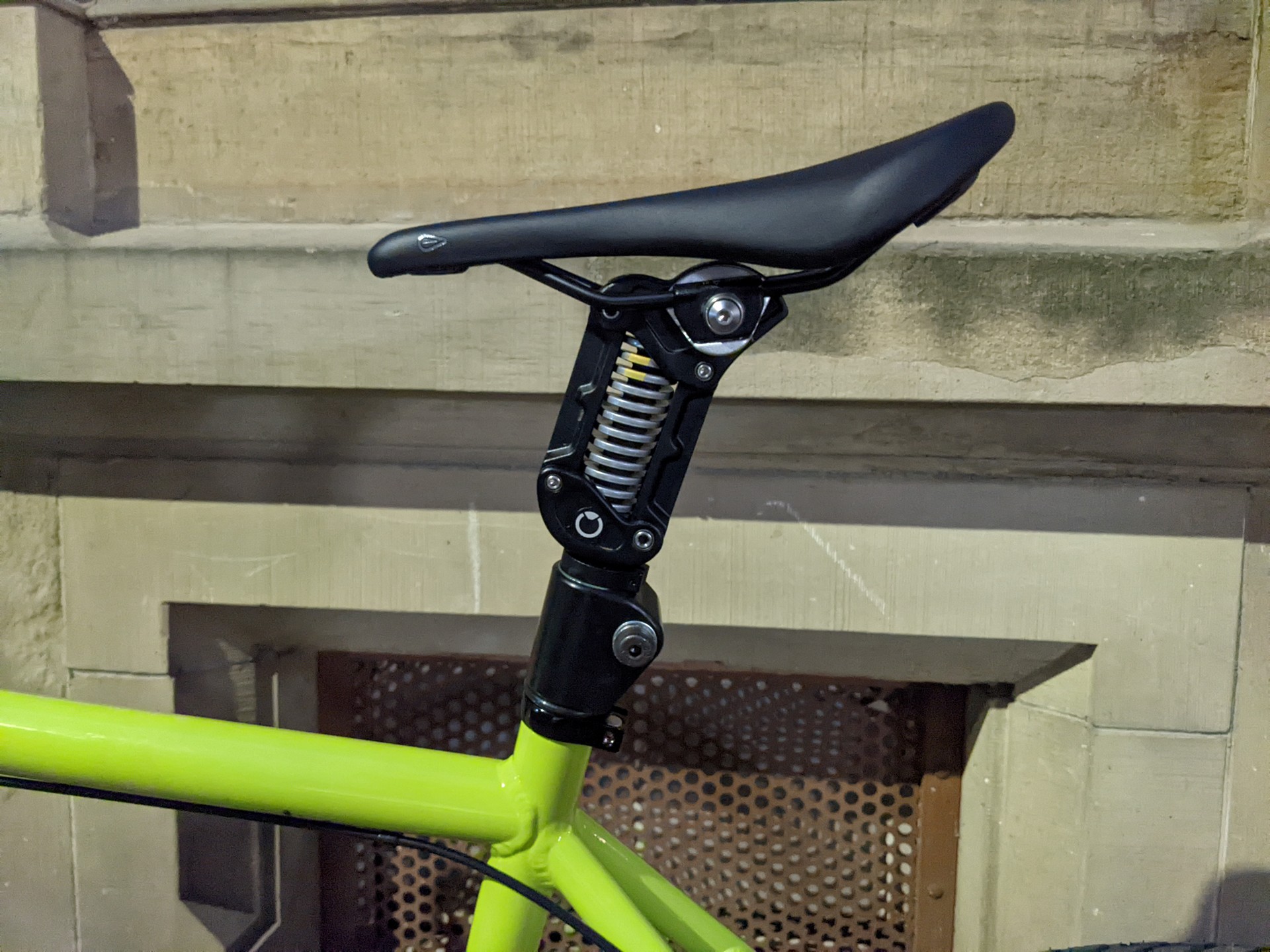 Trailer
We use aevon STD 100 trailers. A one-wheeled aluminium trailer that is equiped with a good suspension which eases the stress on the solar panels we mount on the trailer.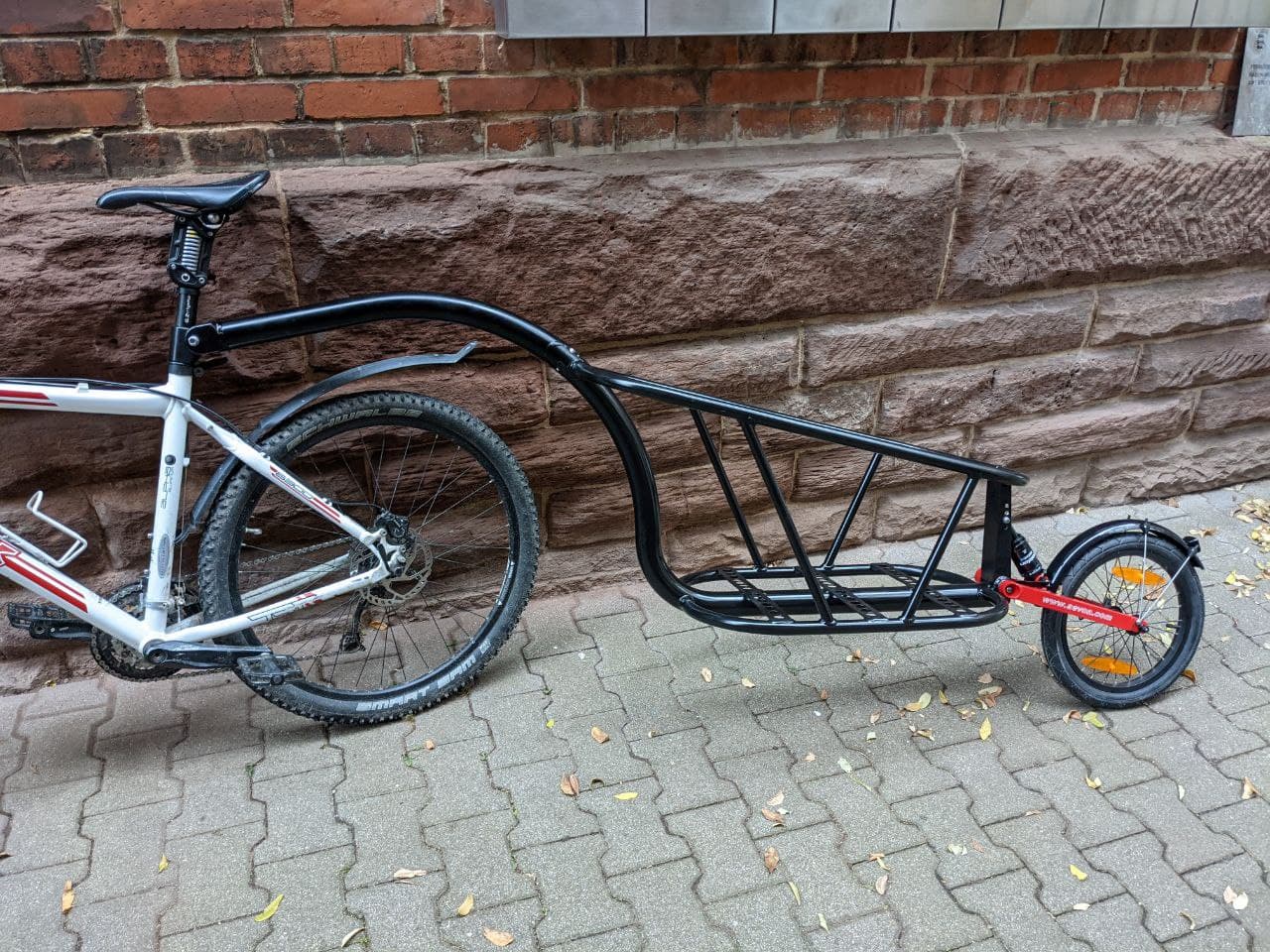 On the trailer there is a support structure made from 20 mm aluminium tubes on top of which the solarpanels are then mounted.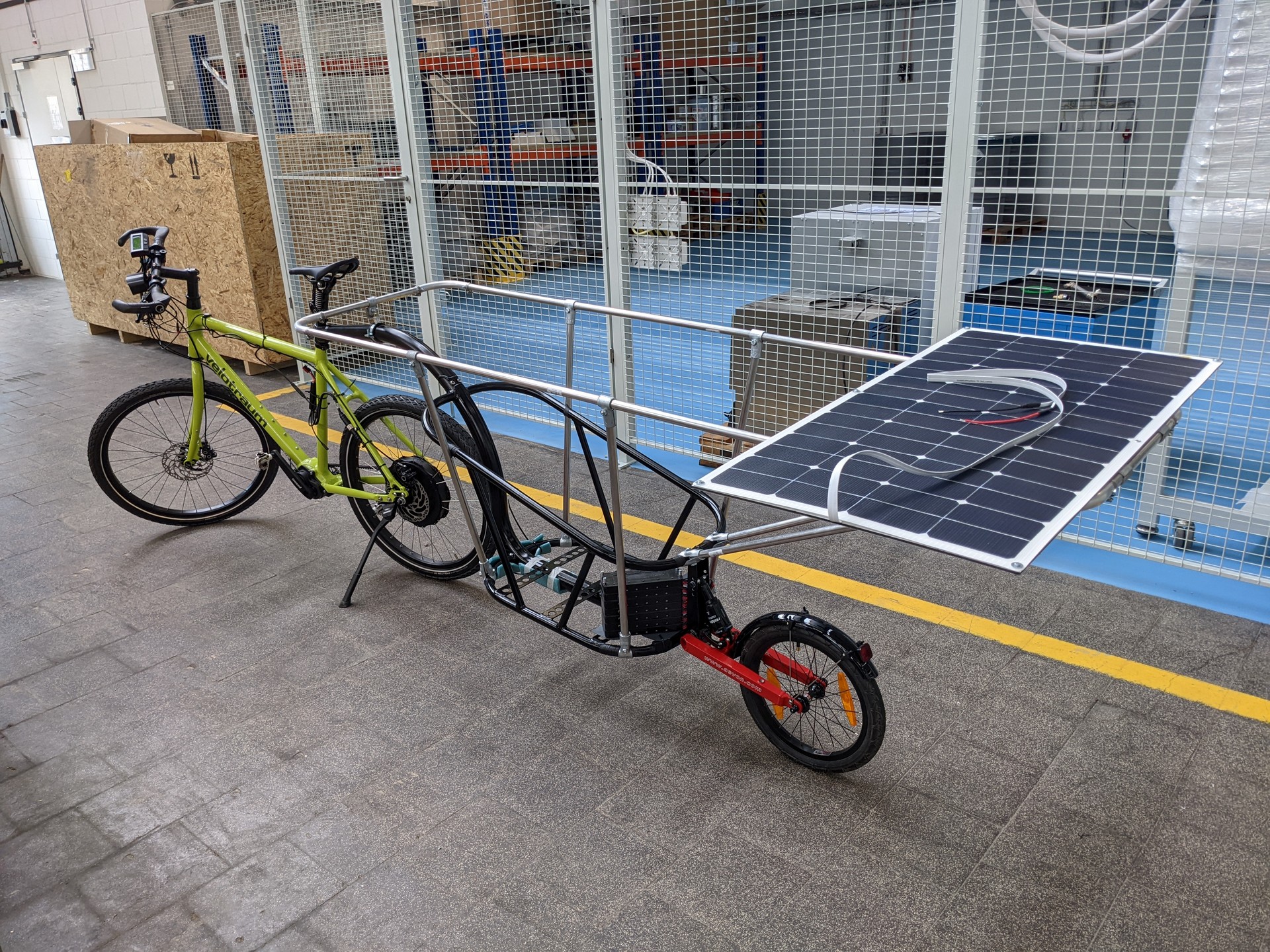 Solarpanels
The solarpanels used are four 111 W nominal power TOUGH series panels from sunbeam systems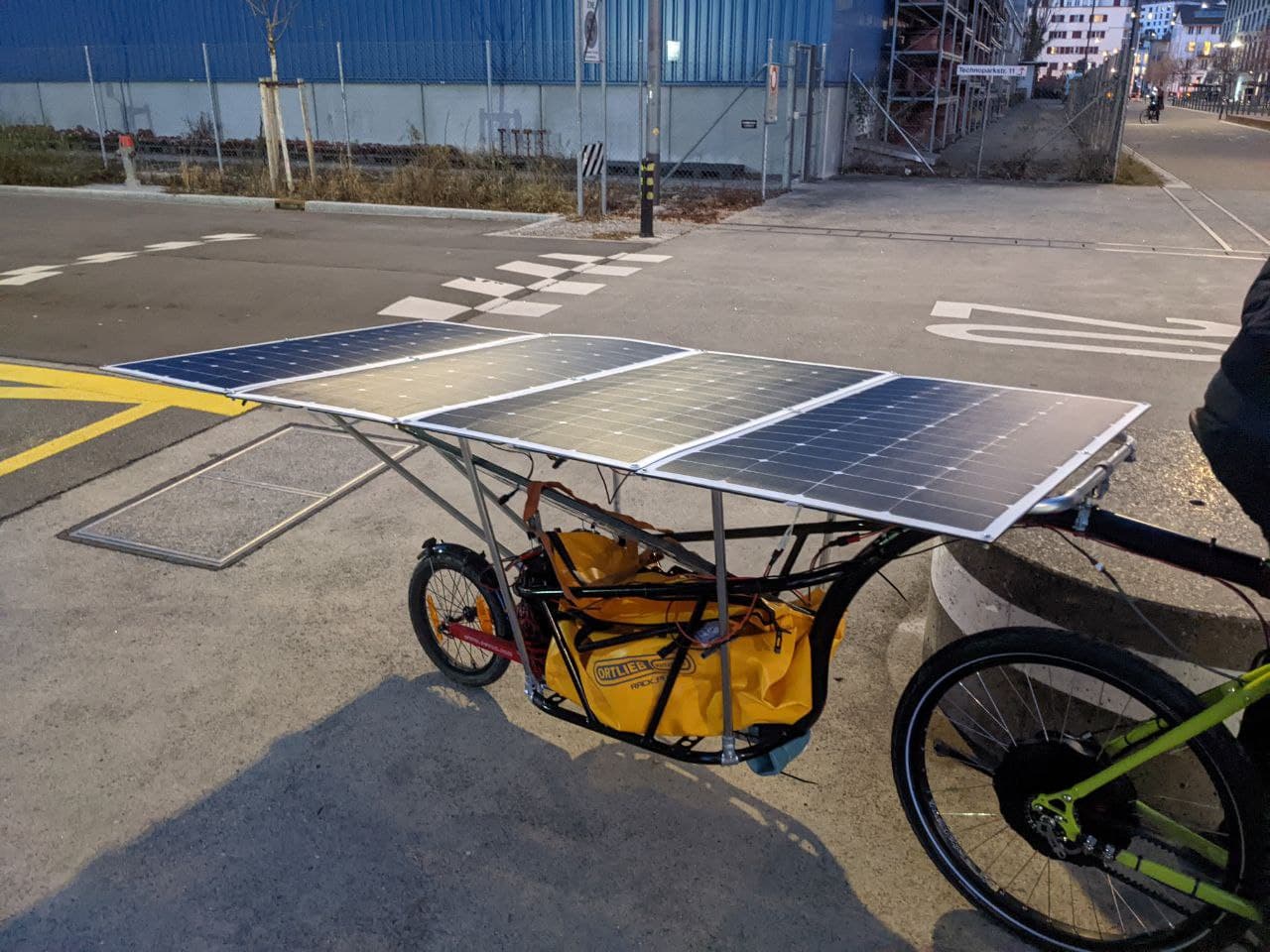 The panels are wired in parallel, two per charge controller. To support the relatively thin panels, they are mounted on 4 mm aluminium-thermoplast dibond plates where we cut out some parts in order to minimize the weight.
Electronics
Batteries
The batteries used are 14 packs in parallel of 10s1p (and therefore 36V nominal Voltage) Li-Go Batteries with integrated BMS from Grin Technologies. The total capacity is 1372 Wh. The packs contain 98 Wh each which means they can be transported via plane (100 Wh is the limit of the energy content allowed in a single battery pack) - an important feature for our journey. Another good thing about them: Their BMS balances at all voltages and not like most e-bike batteries only at full voltage so no need to charge them to the maximum voltage and they are wired with two connectors per pack which makes it very easy to connect them in parallel.
MPPT Charge controllers
To charge the batteries we use two no-name MPPT charge controllers on each trailer, they can take up to 400 W of solar power each. Their output voltage can be defined on the device which allows to not fully charge the batteries which increases the cycle life of the batteries significantly.
Control unit
The brain of our bikes is a Cycle Analyst from Grin Technologies. It is able to show all important in- and output parameters of motor, battery and solarpanels while riding and the software parameters can easily be adjusted.